While there are new movies that are fun and enjoyable, they just don't have the same impact as the Action and Horror Movies we remember as kids/teenagers. So we figured we were not alone in our nostalgia and created a podcast to entertain people who feel the same as us. We will talk about what made certain movies so memorable. We will talk about a movie so cheesy but still makes us smile. We will share a memory of watching a movie for the first time.
Episodes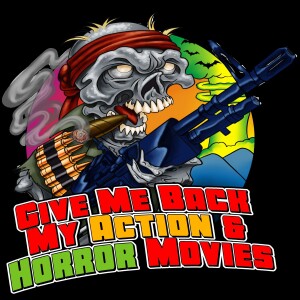 Tuesday May 23, 2023
Tuesday May 23, 2023
This week the guys cover another Post Apocalyptic movie called 'Steel Dawn', starring the always graceful yet completely badass Patrick Swayze. But its not just Patrick having to be a heroic Nomad this episode because Charlie found himself standing alone in his love of this 80's Sword and Sandal adventure. Nate and Pete unfortunately sided with the ever evil Hordes and tried to rip Charlies nostalgia to shreds just like how Danmil and Sho tried to destroy everything Nomad chose to defend....but they were unsuccessful in their treacherous plans as Charlie stood strong, unwavering in his resolve that Steel Dawn deserves to be counted among the action classics. So grab a cold glass of water, charge up your solar wind rider and enjoy this weeks discussion of another 80s VHS classic!