While there are new movies that are fun and enjoyable, they just don't have the same impact as the Action and Horror Movies we remember as kids/teenagers. So we figured we were not alone in our nostalgia and created a podcast to entertain people who feel the same as us. We will talk about what made certain movies so memorable. We will talk about a movie so cheesy but still makes us smile. We will share a memory of watching a movie for the first time.
Episodes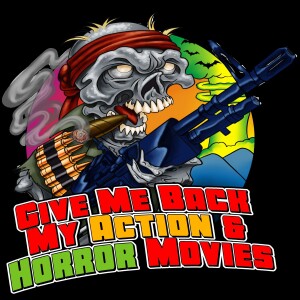 Tuesday Jun 06, 2023
Tuesday Jun 06, 2023
Podcasting is full of surprises, take for example the three surprising questions that popped up this week as we watched Monkey Kung Fu. 
First, if you had to guess, how many Shaw Brother Kung Fu movies released in 1979 have Monkey Kung Fu in the title?
Second, "can a Kung Fu movie have too much Kung Fu?"
And third, are Charlie and Nate mad at Pete again for picking another shitty film?
Honest, these are questions the boys answered in this episode of 'Give Me Back My Action Movies'. That and a lot of silly filler since the movie was devoid of any plot whatsoever. Tune in and giggle along.