While there are new movies that are fun and enjoyable, they just don't have the same impact as the Action and Horror Movies we remember as kids/teenagers. So we figured we were not alone in our nostalgia and created a podcast to entertain people who feel the same as us. We will talk about what made certain movies so memorable. We will talk about a movie so cheesy but still makes us smile. We will share a memory of watching a movie for the first time.
Episodes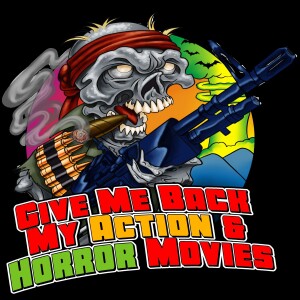 Tuesday Apr 25, 2023
Tuesday Apr 25, 2023
We did it!!! We have finally arrived at our 100th episode of the podcast (not counting interviews). With so many great movies still to cover there is only one that could be our 100th movie....Demolition Man!!!!! A movie so great even Pete was excited to cover it along side myself and Nate as dove head first into pure action movie greatness. We talk about the many similarities of now versus then and how close the filmmakers were with getting scary accurate about what the future may hold. 
This episode turned into what we've decided to call our Giant Sized Episode with it being on the longer side, but fret not! We just couldn't help ourselves cramming a ton of content into the 100th and we even end the episode with an interview we guarantee no one will want to miss!!!