While there are new movies that are fun and enjoyable, they just don't have the same impact as the Action and Horror Movies we remember as kids/teenagers. So we figured we were not alone in our nostalgia and created a podcast to entertain people who feel the same as us. We will talk about what made certain movies so memorable. We will talk about a movie so cheesy but still makes us smile. We will share a memory of watching a movie for the first time.
Episodes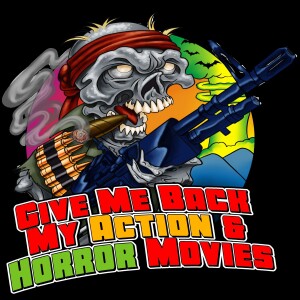 Tuesday Dec 06, 2022
Tuesday Dec 06, 2022
It's been months in the making, demands were tossed back and forth, long nights of negotiations and deliberations. After a painstaking stand still; an agreement was made! Blood, sweat, and tears brought us to this momentous achievement. Give Me Back My Action Movies and Spoils of Horror have united!!!
Twice the carnage. Twice the mayhem. Twice the body count. Prepare yourselves for an unholy union as these two podcasts form an alliance to which the likes of the podcasting world has never seen. Oh, and they watched Class of 1999.